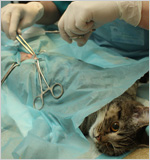 Our highly skilled veterinarians are capable of performing many surgeries, from routine spays and neuters in dogs and cats, to not-so routine emergency surgeries like bloats (twisted stomachs), splenectomies (ruptured spleens) and urethrostomys (when the urogenital tract is blocked up by a stone that cannot be dislodged).
We also perform complex orthopedic procedures, like TPLO surgeries for ruptured cruciate ligaments, as well as external fixation for broken legs, and bone plating for broken legs.
Before surgery, your pet will undergo pre-anesthesia blood testing and an EKG screening to determine the effect of anesthesia on your pet's body. We take special care when administering anesthesia to your pet. Following surgery, we use a special forced air-heating system to gently warm patients. For your pet's recovery, we engage in a comprehensive pain management program, including non-sedating, non-steroid based medications, anti-inflammatory medication, pain patches and constant rate infusions of pain killer for relief of extreme pain.