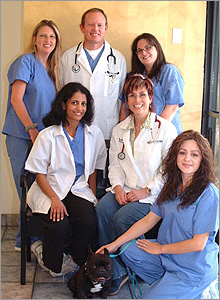 When did we open our doors, and why?
Three partners opened the practice in 1996, with the dream of opening a 24 hour practice that would see emergencies and do critical ongoing care, as well as do puppy and kitten care, senior care, dentistry, medicine and surgery. Two of the three partners have since gone their separate ways, leaving the practice under the leadership and direction of Dr. Laurel Leach. Dr. Leach's vision and mission is to take the practice into the next level of care for the pets and their owners, as well as cultivating career paths in the staff, mentoring for excellence and compassion in the doctors, and reducing our carbon footprint for the benefit of, well, all of us and the generations to come!
Where are we located?
Beverly Oaks Animal Hospital and Emergency Animal Clinic is located at 14302 Ventura Boulevard, in Sherman Oaks, between Van Nuys Street and Hazeltine Street. The telephone number is 818-788-2022 , and 818-788-7860. The fax number for the practice is 818-788-5246.
Beverly Oaks Pet Resort which features grooming,
retail, food and limited boarding, is located at 14270 Ventura Boulevard in Sherman Oaks, between Van Nuys
Blvd and Hazeltine Street, and the telephone number is 818-501-8032.
DOWNLOAD THE BEVERLY OAKS APP TO YOUR SMARTPHONE RIGHT NOW!  YOUR PET WILL THANK YOU FOR IT! http://www.beverlyoaksvet.com/get-the-app/.php
What makes us special to our clients?
We combine emergency care with regular day practice. We are open 24 hours a day, 7 days a week, 365
days a year. We are here for our clients and their pets at all hours of the day and night and this is what
drives our popularity and our success.
We blend the dual roles of emergency room, and family doctor by really focusing on the client. We have
arranged our practice environment to be soothing and welcoming to the owner. We try to take care of
THEIR comforts, while we attend to their pet's medical needs and comforts. In some ways they may not
even consciously know it, for example:
 We take identity theft seriously and do what we can to minimize any potential for this at Beverly Oaks.
The staff process credit card transactions in the examination room to make sure client's credit card is
not out of sight for even a moment. Also, this way, they are free to discuss the medications, the bill, the
pet's care and needs, without having to juggle all of this at the reception station.
We have created an online payment portal so that clients don't have to leave work, or home, to make
a payment. The site is secure and its security is reviewed quarterly by an outside auditing firm that
reports that we, and our internet service provider, maintains security.
To access the online payment portal, click this link to go to  www.beverlyoaks.org
We provide an estimate so that owners know what we anticipate costs might be in advance of
treatment. This is an important decision making step that helps us convey to the client what their pet
needs, and helps us understand the parameters of care that was agreed upon.
Estimates and Consent Forms can be e-mailed so that busy clients don't have to come in to sign forms.
Radiographs can be emailed to specialists or other veterinarians.
A freshly brewed cup of coffee or hot cocoa is always available.
Clients can visit their pets for an unlimited amount of time in our comfortable visiting rooms.
Our clients like the fact that they know someone will be attending to their pet day and night. They like the fact that their records and their Xrays and their bloodwork is available to the attending doctor at all times. They like the fact that most of the time, they know the staff working with their pet, and that they can call and inquire about their pet's status at any time in the day or night. It gives them peace of mind.
They also like the fact that our doctors are trained to see a wide variety of cases. The doctors have a wide variety of diagnostic and surgical skills, more so than what a veterinarian who doesn't see emergencies might have.
Another feature is that we stock an enormous variety of Prescription Veterinary Diets. Sometimes a pet with a health problem is a picky eater, or an owner won't like a certain manufacturer. We stock veterinary diets for cats and dogs that are like a medication, in that the food is used to help a dog or cat with a certain health condition maintain a quality of life. We stock foods from Hills, Royal Canin, Eukanuba/Iams, and Purina Veterinary Diets.
We give our clients, and their pets, choices— choices that many other clinics cannot provide due to space and inventory limitations.[/box][box]
What other things differentiate us from other veterinary clinics?
In addition to our very focused client-centered approach, we use technology to reduce paper, improve efficiency, improve speed and accuracy of communications, and improve convenience to our clients.
The technology helps us provide more focus on our clients and their pets. And it reduces our carbon footprint. It is better for us, and better for our community.
1. Our medical records are charted and stored electronically, meaning less paper, also less space devoted to paper storage and more space devoted to pet care.
2. Our Xrays are Digital, meaning we capture images and store them electronically, rather than the old method of using film and chemicals to develop the image. This is more efficient: there is less radiation exposure to our staff, and to the pets, it is convenient for the client because the images can be taken and presented in the exam room in less time, the images can be provided to the client on a CD or they can view them on a website, and then lastly, we are not discharging processing chemicals into the environment.
3. Again, we have a commitment to reducing waste. The Digital X-Ray keeps us "GREEN" by reducing the amount of chemical processing (we have NONE). We also have diminished our paper use, because we email estimates and invoices to clients rather than print and fax and throw away.
4. We also maintain an online payment portal so that when someone wants to pay their bill online, or if they are out of town and need to take care of expenses, they can, without having to come in.  To log onto our online payment portal, click this link: www.beverlyoaksvet.org
5. We can e-mail our clients their lab results and they can email us with questions; we can e-mail estimates and invoices and updates.
So all in all, this means we get to spend more time listening to our clients, chatting with them, and working on their pet. All of this technology is of no good if we aren't paying attention to what our clients want, and what our patients need.[/box][box]
Who are we?
We have a core staff of 6 doctors: Dr. Sabrina Chapman, Dr. Kwane Stewart, Dr. Jose Torres, Dr. David Lahijaniha, Dr. Brian Wood and Dr. Laurie Leach. Several other excellent doctors, including Dr.Jeffrey Saur for ultrasounds, Dr. Antonio Pedraza for orthopedic and soft tissue surgery, and Dr. Hobson for dentistry.
We have a management staff of 8 that manage everything from bookkeeping, to payroll, to human resources.
Do veterinary clinics have IT guys? Nowadays, they do. We are proud to have 3 people that provide our IT services and website services. Thanks to Scott, Chris, and JT, and Chris C!
We couldn't do anything without our receptionists and nursing/technician staff. These hardworking and talented people are our backbone. Each veterinarian is supported by 4 to 5 support staff. These are the people holding the pet for the doctor, taking the blood samples, taking the radiographs, answering phones, answering questions for callers, placing and removing the IV lines, etc.
We have an important corporate culture of personal growth and development through education and we try to foster an interest in that growth whenever possible.
We also have an important core of friends – our electrician and handyman-Paul, our contractor-Dan, our fish guy-Ken. Their input and contributions are all reflected in the practice, in the double security door systems that don't allow pets to escape, the lighting and fixtures, the serene beauty of our fishtanks. Without access to all of the individuals mentioned above, as well as the clients and pets that allow us the privilege of providing their care, the practice would not be the success that it is today.